Thanks for the Greatest Gift
by Henry M. Morris, Ph.D. | Dec. 25, 2017
"Thanks be unto God for his unspeakable gift." (2 Corinthians 9:15)
We who have known and sought to follow the Lord for many years have received many, many blessings for which to thank Him. "Blessed be the Lord, who daily loadeth us with benefits" (Psalm 68:19), we can pray again and again.
But there is one blessing that is so great that it cannot even be put into words—it is unspeakable! That gift is so great that when we try to comprehend it, the sense of awe and gratitude becomes so overwhelming (or at least should become so overwhelming) that our joy is also unspeakable—indescribable! That gift, of course, is the gift of the Lord Jesus Christ as our Redeemer and Savior, "whom having not seen, ye love; in whom, though now ye see him not, . . . ye rejoice with joy unspeakable and full of glory" (1 Peter 1:8).
It is significant that the Greek word translated "unspeakable" occurs only these two times in the entire New Testament. God's unspeakable gift to us produces unspeakable joy in us. We who deserve nothing but eternal separation from God in hell, instead will enjoy eternal life with God in heaven, and all because of that amazing and truly inexpressible gift!
To think that the mighty Creator, God the Son, would not only humble Himself to become His own creature, man, but then also suffer the unimaginable agony of the cross and separation from God the Father in order to deliver us from the just penalty of sin! This act speaks of such love and grace that all we can do is whisper softly, "Thank you, Lord, for this unspeakable gift," and then shout it over and over again in our hearts wherever we go and share its unspeakable joy and blessing with whomever will listen to its message. "The LORD hath done great things for us; whereof we are glad" (Psalm 126:3). Thank you, Lord! HMM
**************************************************
Our Daily Bread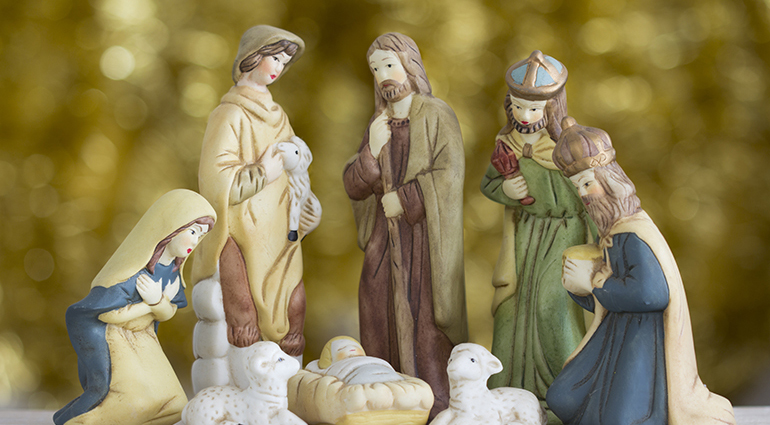 Traditions and Christmas
December 25, 2017
Read: Luke 2:1–10 | Bible in a Year: Zephaniah 1–3; Revelation 16
I bring you good news that will cause great joy . . . a Savior has been born to you. Luke 2:10–11
As you savor a candy cane this Christmas, say "danke schön" to the Germans, for that confectionary treat was first created in Cologne. As you admire your poinsettia, say "gracias" to Mexico, where the plant originated. Say "merci beaucoup" to the French for the term noel, and give a "cheers" to the English for your mistletoe.
But as we enjoy our traditions and festivities of the Christmas season—customs that have been collected from around the world—let's save our most sincere and heartfelt "thank you" for our good, merciful, and loving God. From Him came the reason for our Christmas celebration: the baby born in that Judean manger more than 2,000 years ago. An angel announced the arrival of this gift to mankind by saying, "I bring you good news that will cause great joy . . . a Savior has been born to you" (Luke 2:10–11).
May the God of hope fill you with all joy and peace as you trust in him. Romans 15:13
This Christmas, even in the light of the sparkling Christmas tree and surrounded by newly opened presents, the true excitement comes when we turn our attention to the baby named Jesus, who came to "save his people from their sins" (Matt. 1:21). His birth transcends tradition: It is our central focus as we send praises to God for this indescribable Christmas gift.
Lord, we thank You for coming to join us on that first Christmas. During a time of the year filled with many traditions, help us to keep You first.
May the God of hope fill you with all joy and peace as you trust in him. Romans 15:13
By Dave Branon | See Other Authors
INSIGHT
The angel Gabriel told Mary, "[Jesus] will be called the Son of the Most High. The Lord God will give him the throne of his father David" (Luke 1:32–33). The angel who appeared to Joseph said, "What is conceived in her is from the Holy Spirit. . . . [Y]ou are to give him the name Jesus, because he will save his people from their sins" (Matt. 1:20–21). Mary and Joseph knew Jesus would be the Messiah, and as faithful Jews they would have known the Messiah was to come from Bethlehem, David's hometown. Perhaps when Joseph was ordered to Bethlehem for the census he thought, So that's how God is going to get us to Bethlehem!
How does reflecting on the miraculous events that led to the birth of Jesus fill you with renewed awe and wonder?
Adapted from Mystery of the Manger by John Greco. Read more at discoveryseries.org/hp161.