Our trials, tribulations and suffering build us up.  Who has not heard of the common story of the overly protected child who later has trouble functioning in school and everyday life?  The devotional below reveals how trees placed in a protective space, collapsed under their own weight.  Why?  Because they were never exposed to the winds of adversity.  They never had a chance to develop strong roots and a solid trunk!  God grows us, and in order to grow us, He allows us to suffer and be tested.  Without a Goliath in his life, the strength of David's character would have been dormant and not seen by man.  Goliath did not make David a heroic man of faith.  Goliath simply revealed what was already in David.  Trials do NOT make or break us, they reveal what is in us.
Following the devotionals from Our Daily Bread, the topic of suffering will be further expounded upon.  In Christ, Pastor Steve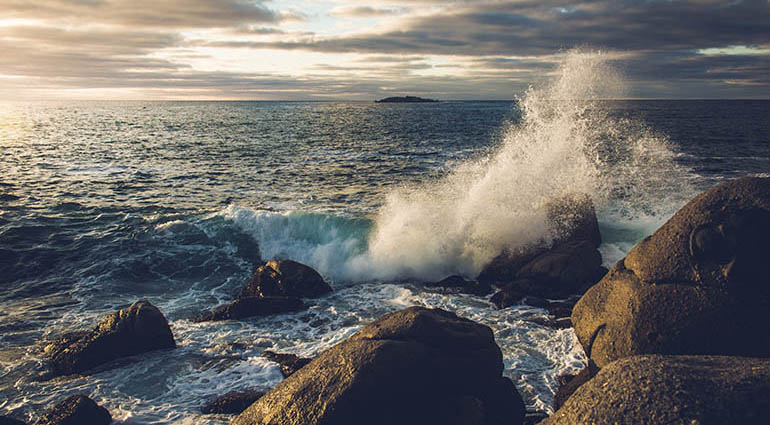 Who is this? Even the wind and the waves obey him! Mark 4:41
Imagine a world without wind. Lakes would be calm. Falling leaves wouldn't blow in the streets. But in still air, who would expect trees to suddenly fall over? That's what happened in a three-acre glass dome built in the Arizona desert. Trees growing inside a huge windless bubble called Biosphere 2 grew faster than normal until suddenly collapsing under their own weight. Project researchers eventually came up with an explanation. These trees needed wind stress to grow strong.
Jesus let His disciples experience gale-force winds to strengthen their faith (Mark 4:36–41). During a night crossing of familiar waters, a sudden storm proved too much even for these seasoned fishermen. Wind and waves were swamping their boat while an exhausted Jesus slept in the stern. In a panic they woke Him. Didn't it bother their Teacher that they were about to die? What was He thinking? Then they began to find out. Jesus told the wind and waves to be quiet—and asked His friends why they still had no faith in Him.
If the wind had not blown, these disciples would never have asked, "Who is this? Even the winds and the waves obey him!" (Mark 4:41).
Today, life in a protective bubble might sound good. But how strong would our faith be if we couldn't discover for ourselves His reassuring "be still" when the winds of circumstance howl?
Father in heaven, please help us to remember that anything that frightens us comes with an invitation to find the strength of knowing and trusting You.
God never sleeps.
INSIGHT:

In Mark 4:35–5:43 the gospel writer tells of four miracles to prove that Jesus is "the Messiah, the Son of God" and therefore has absolute authority over the forces of this physical world (4:35–41), over the powers of the spiritual world (5:1–20), over physical illnesses (5:24–34), and over death (5:35–43). These miracles were designed to answer the question, "Who is this?" (4:41). The first miracle was Jesus calming the storm on Galilee. Because the Sea of Galilee is in a basin about 700 feet below sea level and is surrounded by mountains, sudden and violent storms are common (v. 37). That Jesus was tired and soundly asleep showed that He was fully human (v. 38); that the storm instantly obeyed Him showed He was divine (v. 39).
*****************************
ead: Matthew 10:37–42
Bible in a Year: Genesis 36–38; Matthew 10:21–42
Whoever loses their life for my sake will find it.—Matthew 10:39
When I married my English fiancé and moved to the United Kingdom, I thought it would be a five-year adventure in a foreign land. I never dreamed I'd still be living here nearly twenty years later, or that at times I'd feel like I was losing my life as I said goodbye to family and friends, work, and all that was familiar. But in losing my old way of life, I've found a better one.
The upside-down gift of finding life when we lose it is what Jesus promised to His apostles. When He sent out the twelve disciples to share His good news, He asked them to love Him more than their mothers or fathers, sons or daughters (Matt. 10:37). His words came in a culture where families were the cornerstone of the society and highly valued. But He promised that if they would lose their life for His sake, they would find it (v. 39).
We don't have to move abroad to find ourselves in Christ. Through service and commitment—such as the disciples going out to share the good news of the kingdom of God—we find ourselves receiving more than we give through the lavish love the Lord showers on us. Of course He loves us no matter how much we serve, but we find contentment, meaning, and fulfillment when we pour ourselves out for the well-being of others. —Amy Boucher Pye
When I survey the wondrous cross on which the Prince of glory died, my richest gain I count but loss, and pour contempt on all my pride. Isaac Watts
Every loss leaves a space that can be filled with God's presence.
INSIGHT: When we choose to follow Christ, we won't necessarily be popular. Our highest calling is not self-promotion or self-preservation. A hero jumps into deep water to save someone who is drowning, but that same person could well lose his or her life (to quote Jesus) in the process of seeking to save someone else. Jesus indicated that even family members (normally our closest natural connection) may be squared off against us. While others may become our obstinate opponents because of Christ, we are obligated to show unselfishness because of Him (Phil. 2:3-5). "For to me, to live is Christ and to die is gain" (1:21). It's a profound paradox. To lose our life for Him means to find it. Has there been a time when the choice to follow Christ has cost you? Jim Townsend