This is the first entry of a series with the theme of suffering.  Today's posting features three different devotionals on this topic, that I have read in the last couple of days!  That indicates how relevant this subject is.  The Bible is an oxymoron to the world, never making sense to the lost because "His ways are not our ways."  The Bible tells us (the Apostle Paul) that "…when I am weak, then I am strong."  The Bible tells us that "the Lord uses the foolish things of the world to confound the wise."  The Bible also contains the theme throughout, that God blesses and works through suffering – Jesus' death on the cross being the greatest example.  I have found that this fascinating subject is readily received by born again Christians, yet eschewed by nominal Christians and worldlings.  The fact is, they have absolutely no comprehension of this topic.  Speaking for myself, my greatest growth has come under the crucible of testing, trials and tribulations.  In order to make us into His image, the Lord must break us from our sinful fallen nature and fleshly desires.  This is a lifelong process that never ends.  Suffering is the hallmark of the mature saint – there are no shortcuts to heaven.
Blessings, Pastor Steve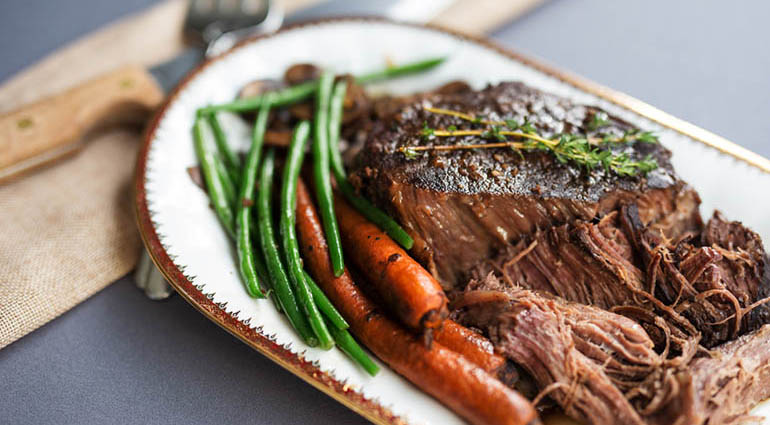 We know that in all things God works for the good of those who love him, who have been called according to his purpose. Romans 8:28
My wife makes an amazing pot roast dinner. She takes raw meat, along with raw sliced white and sweet potatoes, celery, mushrooms, carrots, and onions and throws them into the slow cooker. Six or seven hours later the aroma fills the house, and the first taste is a delight. It is always to my advantage to wait until the ingredients in the slow cooker work together to achieve something they could not achieve individually.
When Paul used the phrase "work together" in the context of suffering, he used the word from which we get our word synergy. He wrote, "We know that in all things God works for the good of those who love him, who have been called according to his purpose" (Rom. 8:28). He wanted the Romans to know that God, who didn't cause their suffering, would cause all their circumstances to cooperate with His divine plan—for their ultimate good. The good to which Paul referred was not the temporal blessings of health, wealth, admiration, or success, but being "conformed to the image of [God's] Son" (v. 29).
May we wait patiently and confidently because our heavenly Father is taking all the suffering, all the distress, all the evil, and causing them to work together for His glory and our spiritual good. He wants to make us like Jesus.
Read 2 Corinthians 12:9, Philippians 1:6, and 1 Peter 5:10. What encouragement did you find for tough times?
The growth we gain from waiting on God is often greater than the answer or result we desire.
INSIGHT:"All things" (Rom. 8:28) is a phrase that treats the seemingly good and bad events of life as a whole. The idea is that there is a dynamic interaction between the good and bad to bring a desired outcome, though this positive outcome may not yet be visible. If we consider a young man nailed to a cross dying in agony, we might wonder if anything good could be found there. But if we understand that this is Jesus Christ atoning for the sins of those who love Him, we can see how even this terrible event worked together for good. God works for "the good" of those who are true believers in Jesus Christ. They demonstrate the authenticity of their faith because they respond back with love to the One who first loved them (1 John 4:19).
**********
Hast thou considered my servant Job?       Job 1:8
Obviously God had considered Job.  He said that there was none like him on earth, perfect and upright, one who feared God and shunned evil.  Well might we wonder what God says when He considers us.  Nevertheless Job suffered to the extent that now he is seen as an example of suffering.  What was the end of the matter?  It is that we should consider God who is eternal, all-knowing, all-powerful, and pure.  "Stand still, and consider the wondrous works of God."  (Job 37:14)  -D. Pickup
I see the stars, I hear the rolling thunder, Thy pow'r throughout the universe displayed, Then sings my soul, my Saviour God to Thee; How great thou art, how great Thou art!  -Carl Boberg
**********
Open Windows   A Guide For Personal Devotions    Winter 2016-2017    LifeWay
A Sign Of Hope
Exodus 12:13 
King James Version (KJV)
13 And the blood shall be to you for a token upon the houses where ye are: and when I see the blood, I will pass over you, and the plague shall not be upon you to destroy you, when I smite the land of Egypt.
Do you ever wonder why God does not protect His own from the calamities of life?  As Christians, we are covered with the blood of the Lamb of God – death no longer holds power over those who belong to Him.  Yet, the waves of trial and sorrow hit the lives of Christians just as catastrophically as they crash into the lives of unbelievers.  Why does suffering not "pass over" those marked by the blood of Jesus?
Consider the horrors left in the aftermath of the plagues.  Death and decay all around – men, women, children, and livestock all struck dead where they stood.  The faithful were protected from death, but they were left with a world filled with festering, disease-breeding corpses and mourning.
Regardless of how difficult the circumstances they faced, their victory was not to be found in earthly condition but in the hope only God could provide.  They could celebrate His goodness in the face of devastation.
When trouble strikes, may we remember that hope in God will see us through.
Father, when trouble comes, help us to hold on to the hope found only in You.  Remind us that our victory in Christ is secure, no matter what life brings our way.